CHARITON COUNTY, Mo. — A resident of Marceline is behind bars and facing seven total criminal counts after prosecutors in Chariton County alleged he broke into a home early Wednesday morning.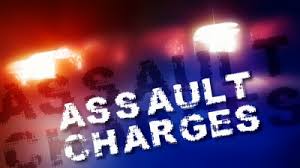 A probable cause statement filed in a Chariton County courtroom indicates that Chariton County Sheriff's Deputies were called to a residence on Highway D in Marceline around 12:05 a.m. on Wednesday, April 18 in reference to a home invasion. Dispatch advised officers the home's occupants were hiding inside a bathroom in the home.
When officers arrived, they found Rowland C. Reddick, 52, inside the residence. It was observed that the front door had been damaged, with the door knob lying on the ground.
Reddick was asked by officers to exit the residence, but allegedly told officers it was his home and refused to leave.
After refusing officers' instructions multiple times, Reddick was arrested and read his Miranda warning. As the arrest was taking place, officers allege Reddick began to "actively resist," resulting in a deputy deploying pepper spray before successfully placing him under arrest. A hammer and pry bar were observed on the floor of the residence with blood surrounding the tools. Officers also allegedly found a firearm concealed on Reddick's person.
The two victims hiding in the bathroom, an adult woman and a young girl, told investigators the incident started when Reddick began to beat on the door of the residence. The adult woman then took the child and hid in the bathroom.
The victim told deputies she could hear Reddick attempting to gain entry to the home. When he was successful, he allegedly began hurling threats at the woman and child. He allegedly said, "I'll go [expletive] redneck crazy on you," just as she heard his tools fall to the floor and law enforcement arrive on scene.
The woman told investigators she feared for her life and that of her child during the incident.
Reddick is charged with a single felony each for first degree burglary, armed criminal action and possession of burglary tools.
He also faces accusations of two counts of fourth degree domestic assault and one count each of second degree endangering the welfare of a child, second degree property damage and resisting or interfering with an arrest.
Reddick pleaded not guilty to the charges in an arraignment hearing Wednesday. He will appear again for a hearing at 1:30 p.m. on Tuesday, April 24.