A Lexington resident, 90-year-old Marian Estelle Robinson died Feb. 12.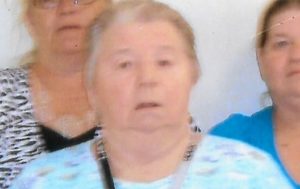 A funeral service will be Friday, Feb. 14 at 11:00 a.m. at the Walker-Nadler-Fuller Funeral Home in Lexington. Visitation will be ab hour prior to the service. Memorials may be made to the family.
Marian was born July 20, 1929 in Caribou, Maine to Raymond Dibiase and Evelyn (Semmes) Fehn. After graduation she served as a pilot in the United States Air Force during World War II. She later worked as a Certified Med Tech at Lafayette Manor. Marian married Harold
Richardson October 2, 1956, they later divorced but remained friends. Marian was a member of the Assembly of God Church and enjoyed
word puzzles, quilting, crafts and ceramics.
Survivors include her children, James Richardson and wife Brenda of Richmond, Deborah Proctor of Lexington and Sandra Wilson andhusband Jesse of Lexington; daughter in law, Lisa Richardson of Kirksville; grandchildren, Stacy Richardson, James Richardson, John Leabo, Misty Clayton, Jason Richardson, Rachel Bratcher and Phillip Vandiver; 18 great grandchildren; four great great grandchildren; one brother; three sisters; and many nieces and nephews.
Marian was preceded in death by her parents; and son, Eugene Richardson.