Marilyn Arlene (Comer) Henry-Flesher age 90, of Bethany, MO. formerly of Ridgeway, MO. passed away December 9, 2019 at her home surrounded by the love of her family.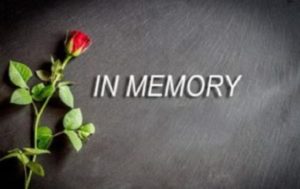 She was born in Hatfield, MO. On June 17, 1929 to Ace Clifford and Verda Lucille (Mathes) Comer.
Marilyn was blessed to live SE of Hatfield, MO. for a few years and then they settled on a farm South of Ridgeway. She attended Lorraine Country School, often telling the story of getting lost on her first day walking, never making the 1 ½ miles, at age 6.
She had a favorite dog named Bulger that would meet her after school and help round up the milk cows.
Although times were hard in the 30's, there was always love and laughter. She got her very own ½ gallon milk pail for her 6th birthday. Social life meant playing games, school fairs, competing in races or going to town on Wednesday or Saturday nights to do their egg and milk trading. And if they were lucky, maybe get to go to the movies. Sometimes with their groceries, they would purchase a pound of bologna. This was a big treat.
After her two sisters, Carolyn and Pat, and a brother Gordon (Bud) were born, she was the one who TRIED to keep them out of trouble. This proved to be a never ending job.
Everyone had chores, milking, gathering eggs, bringing in wood, and the dreaded gathering of the corn cobs, because the hogs had been chewing on them.
Marilyn attended Ridgeway R-V High School, graduating in 1947.  She was approached shortly after to teach at Walnut Country School. Thrilled with the opportunity, she attended ten weeks of summer school at NWMSU and took the state test. She kept teaching and going to summer school, receiving her BS in 1958. In the 1970's she received her Master's degree in Elementary Administration and Supervision. She was also certified in Remedial Reading and Special Education K thru 8.
On April 16, 1948 she married Billy R. Henry. Rumor has it that they could clear the dance floor with a mean jitterbug.  To this union two daughters were born, Cynthia K. and Shelly G. They bought a farm SE of Ridgeway and raised turkeys, cattle, hogs, and crops. Marilyn enjoyed sewing, working in her flowers and trying new crafts and recipes. She could cook up an amazing turkey and dressing dinner that everyone enjoyed. In 1992 they divorced and she moved to Bethany.
Marilyn was involved in education for 50 years. She taught at;
Walnut Country School, Ridgeway, MO.
Mount Moriah School,
Ridgeway R-V 3-4 grades, Kindergarten, Reading, Special Ed, Elementary Principal, later coming back to establish Title 1, with the help of her aide, Judy Middleton.
South Harrison, 3-4, Special Ed, established their first Kindergarten, later coming back as Elementary Principal
North Harrison, Principal and Special Services
Trenton, MO. Head Start Director
Dixon, MO. Principal and Special Services
Marshall, MO., Special Services Director
Graceland University, Lamoni, IA., Education Class, Student Teacher Supervision
NWMSU Marysville, MO., Student Teacher Supervision
Helen Davis School, St. Joseph, MO., Marilyn had a soft heart for the mentally challenged and served as Administrator
She was very involved with the Missouri State Department in early childhood education. She worked with Mildred Winter to create and establish Early Childhood Education in Missouri (Now known as, Parents as First Teachers). She thought if you couldn't teach with books, then teach with love.
Marilyn had been a member of Beta Sigma Phi since 1948. She was also a member of the Retired Teachers Association, Missouri Elementary Principal Association, the United Methodist Church, Ridgeway, MO. then Bethany, MO.
She was a 4-H leader for 25 years, and also helped the Extension office in writing grants.
Marilyn had a love for antiques and collectibles.  She had her own business, The Eagles Nest in Rideway, and did many weekend antique shows.
She married Fred Flesher on December 2, 1997. They were snow birds in AZ. for 4 years, then returned to their love of buying and selling. They opened Fleshers Show Me Country in Bethany, then Albany. After several fun years they closed the business in 2017, only for health reasons.
She enjoyed traveling, especially foreign countries with Fred. They would buy treasures and ship them home. They would also get to an Estate sale at 5 a.m. to get an early entrance number.
Marilyn (MOMSIE) truly loved her family and friends, and life. She always blessed everyone with her beautiful smile. She and Fred worshiped together and truly loved their church family. She especially liked spending time with family and reading to the little ones.
She is preceded in death by: her parents, brother, Gordon (Bud) Comer, Sister. Patricia Westlake, brothers-in-law, JR Polley and Dan Westlake, niece, Dena Jean Polley, step-son, Mark Flesher and step-son-in-law David Koch.
Survivors include: Husband Fred of the home, sister, Carolyn Polley, Bethany, MO., daughters, Cynthia K. Polley (Alan), Ridgeway, MO., Shelly G. Lovitt (Michael), New Hampton MO., grandsons, Toby Polley, Tryce Polley (Melanie), Tory Polley (Dawn), Zeb Cook (Brandi), Jed Cook (Sidney), Eli Cook ( Brandy Rivet), granddaughter, Dena Bourne (Dalton), greatgrandchildren, Dakota Polley, Erika Polley (Alex Brewster), Jaden Polley, Addison Polley, Gabe Polley, Brody Polley, Ella Cook, Ace Cook, Owen Cook, Knox Cook, Harper Cook. Great great grandchildren, Emmanuel Polley, Jensen Polley. Step-son, Greg Flesher (Dora). Step-daughters, Julia Koch, New York., Jolene (Louis) Wilson, Little Rock, AR. Step-grandchildren, Jewell Wilson (Colleen), Louis Wilson, David Koch Jr, John Koch, and Mary Julia Koch, Paxton Flesher, Whitney (David) Tutor, and Andrew Flesher. Many Cousins, nieces, nephews and friends.
Services under the direction of Polley Funeral Service, Ridgeway, MO. 660-426-8027
Visitation:
6 p.m. until 8 p.m. Friday, December 13, 2019
United Methodist Church, Bethany, MO.
Services:
11 a.m. Saturday, December 14, 2019
United Methodist Church, Bethany, MO.
Inurnment at a later date
In lieu of flowers please make memorials to Miss Marilyn Scholarship fund or Rose Hill Cemetery in care of family or Polley Funeral Service, 24233 E. 270th Ave., Ridgeway, MO. 64481.