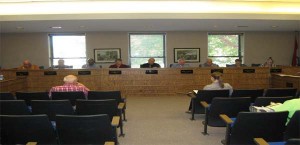 MARSHALL, Mo.- The City of Marshall is holding their first city council meeting for the month tonight, October 5, 2015, at 5:15 p.m. The meeting will begin with the invocation, roll call, adoption of the agenda, and business from the audience.
Committee reports are always first order of business for the council. Tonight we'll hear from the usual Community Development and Code Committee, Public Relations and Public Safety Committee, Municipal Services and Personnel Committee, Property, Finance, Budget, and Audit Committee, as well as reports from the Mayor and City Administrator.
The council will then vote on five different ordinances. Authorizing a contract with Marshall Community Chorus, authorizing a contract with Marshall Philharmonic Orchestra, authorizing a contract with Rhad Baker Construction, LLC, authorizing a contract with Gerken Enviromental Enterprises, Inc., and approving the appropriation ordinance.
Following other council business, the meeting will be adjourned. Marshall City Council will meet in the City Buildings today, October 5, 2015, at their usual time of 5:15 p.m.