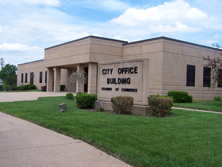 The city of Marshall will hold their regular business meeting tonight, Monday, April 6, 2015 at 5:15 p.m. The meeting will take place in the city council chambers within the City Office Building.
On the agenda for the evening is a liquor license discussion for Angie's Bar & Grill, LLC and a recommendation for the Police Personnel Board will be heard. Also on the agenda tonight is the discussion of three ordinances including, an amendment to the emergency management decision, authorization to sign documents and appropriation.
The City Office Building is located at 214 N. Lafayette Ave., Marshall, Mo. The contact number for the establishment is (660) 886-2226 and you can follow this link to their website.