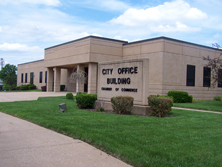 MARSHALL, Mo.- The City of Marshall held their last city council meeting, for the month of August, Monday evening. The meeting started at 5:15 p.m. with a public hearing in regards to setting the city tax levy. No one from the public was in attendance to speak so the tax levy was set, and the tax levy is the same as last year.
After the public hearing was adjourned, a town reverend led the invocation. Roll call was then held followed by the adoption of the agenda.
Business from the audience was next on the agenda and a citizen of Marshall, who's a regular of the city council meetings, stood up and requested something be done about the sign that sits in front of his development that reads the wrong street name.
The usual committee reports were addressed next. Municipal Services and Personnel Committee had a storm tip to present. Although it's a city ordinance he urged town citizens to keep grass and leave clippings out of the street as it creates block ups in the sewer and creates algae in free flowing water.
Ordinances were next on the agenda and included two different amendments and the execution of a deed.  The first two ordinances were adopted which were in regards to South Ellsworth and South English Street. The issue of both the streets has been discussed for a few months now.
The council has held a public hearing and now written up ordinances. One is amending the traffic ordinances by prohibiting parking on the west side of South English Avenue between West Jackson and West Vest Street. Second is amending the traffic ordinances by designating West Washington Street one-way between South Ellsworth and South English Street.
Another ordinance was written up for the Mayor and the City of Marshall to execute a deed with MCP Marshall LLC of Lee's Summit, MO in regards to the payment of any tax, if established, for the building of a solar field. That ordinance was also adopted.
The meeting was adjourned after the conclusion of other council business. Marshall City Council will meet again Monday, September 7th, 2015, at the usual time of 5:15 p.m.