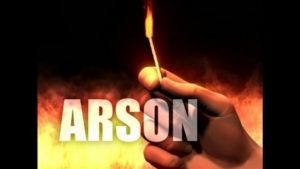 MARSHALL, Mo. — A Marshall man appeared this morning and is scheduled to appear in court for arson charges later this month.
Online court records indicate Justin Roettgen, 35, of Marshall has been charged with 2nd degree arson, misdemeanor domestic assault, and 2nd degree property damages.
According to a probable cause statement, witnesses reported Roettgen and a victim arguing outside of a residence on Gordon Street on the evening of May 8, 2017. Witnesses and a video of the argument reported Roettgen threatened to burn all of the victim's belongings, home, and business. The business was secured and was not damaged.
The victim left the scene shortly before witnesses reported smoke and flames coming from the residence. Roettgen was seen driving erratically as he was leaving the scene.
A State Fire Marshall investigated the fire and found that a wall was doused in a fuel and the fire was set, deeming it arson and not accidental. Fire damage was kept to the garage. The rest of the home was reported to have been completely torn apart and the victim stated it was not that way before leaving.
Roettgen appeared in the Saline County Court for an arraignment this morning at 9:00. Bond has been set at $10,000 cash and no lawyer has been listed for Roettgen. A Counsel Status Hearing will take place on June 28, 2017 at 9:00 a.m. in the Saline County Court.