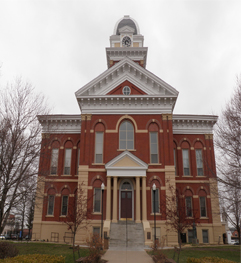 MARSHALL, Mo.- A Marshall teenager was sentenced in Saline County Circuit Court yesterday on sexual abuse charges stemming from incidents last year involving a minor.
According to court records, Anthony Gerst, 18, was originally charged in January of this year with three counts of felony statutory sodomy or attempted sodomy and child molestation in the third degree. In April, Gerst entered a plea of not guilty and court proceedings indicate that a change of venue was originally one of the goals before a plea/trial setting. In May, Gerst changed his plea to guilty to amended charges as part of a plea agreement.
Yesterday, Gerst was sentenced 10 years in the Department of Corrections on two counts of felony sexual abuse in the first degree to run concurrently. However, shock time was allocated to both the charges by the judge in the length of 120 days. Gerst was remanded to the custody of the Sheriff of Saline County for delivery to the Department of Corrections.