Mary Elizabeth Williams, 87, of Lexington, Missouri passed away April 29, 2019 at Riverbend Heights Care Center, Lexington.  Mary was born January 28, 1932 to Edward W. and Edith M. (Wright) Williams in Fulton, Missouri.  Mary had lived at Riverbend Heights for 35 years.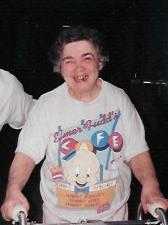 Visitation will be Friday, May 3, 2019 at the Presbyterian Disciples Church, Lexington from 10:00 am until 11:00 am.  Funeral service will also be on Friday at the church at 11:00 am.  Burial will be in Lexington Memory Gardens.  Memorials may be made to Presbyterian Disciples Church, Lexington.
Mary loved to bowl and was a big Royals fan.  She was loved by all and always had a pretty smile.
Mary was preceded in death by her parents and her brother, Ansel R. Williams.  She is survived by her sister and caregiver, Gladys Duffett of Lexington; nephews, Eddie Williams of Benton, Arkansas, Lonnie Williams of Boonsboro, Maryland, Stephen Williams of Magnolia, Delaware, Scott Williams of Florida; and sister in law, Phyllis Williams of St. Joseph, Missouri.
Arrangements by Floral Hills Funeral Home, Kansas City, MO  816-353-1218