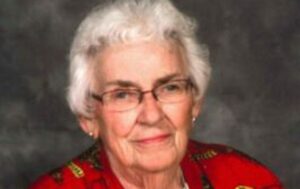 Mary Lytton Clement, 96 of Higginsville, MO, passed away on November 21, 2020 at Meyer Care Center.
Funeral arrangements entrusted to Hoefer Funeral Home and online condolences may be made to the family at www.hoeferfuneralhome.com
Memorials may be sent in Mary's  name to :
Friends of the Friendless, Lexington or the Warrensburg Animal Shelter.
Due to COVID restrictions two graveside services will be held, one for each sister on Wednesday, November 25, 2020. Carol's service: 10:00 am in the City Cemetery with Karen Luehrman officiating. Mary Susan's service: 1:00 PM in the City Cemetery where friends may join in prayer and song celebrating Mary's memory.
Mary was born in Higginsville on September 26, 1924 to Dr. Walter and Alice (Lake) Koppenbrink. As a young child, Mary spent quite a bit of time at the soda fountain in the 19th and Main Huscher drug store which was located under her father's doctor's office. Mary graduated from Higginsville High School as Valedictorian on May 20, 1942. She attended Christian College in Columbia, MO (now Columbia College) and the University of Missouri, graduating in 1946 with a degree in education.
It was during her first teaching assignment in Topeka, KS that she met her future husband, Charles B. Clement while he attended KU. After their wedding, they relocated to Higginsville and opened Clement's Hardware Store. This store served the area community for 31 years. Mary kept the books for the business and was always ready to help when needed.
Mary was extremely active in the local community service with many clubs. They include, in part, Chamber of Commerce, the former Downtown Merchants Association, Harvey Higgins Historical Society, Optimist Club, PEO, CMFA, Arts Advisory Board, Higginsville Jubilee Committee, Higginsville Country Fair Committee, Higginsville Federated Women's Club, Puppeteers of America, and started the Band Boosters Club with Rosemary Zacha. Mary was a lifelong member of the Presbyterian Church, taught Sunday school, and was involved in Girl Scout activities. She was a founding member of the Higginsville Theatre Company with Marge Stoecklin and Harri Huscher. She and Jack Hayslett produced puppet shows for many years. Mary was also a good program presenter and was a great reference to the past because of her age, experience, and knowledge.
Mary and Charlie traveled the world with many trips to Europe and annual trips to the beautiful beaches of Mexico. Mary had as many international friends as she had friends in her hometown.
Mary is survived by two daughters, Carol Rodriguez of Higginsville, Mary Susan (John) McCrae of Kansas City; one granddaughter, Allison McCrae; and a nephew, Dr. Walt Koppenbrink.
She is preceded in death by her parents, and husband, Charles Clement.