A Lexington resident, 83-year-old Mary Margaret Butler died March 1.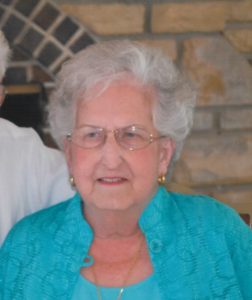 Funeral service will be Saturday, March 7, at 11:00 a.m. at the Walker-Nadler-Fuller Funeral Home in Lexington. Visitation will also be on Saturday at the funeral home from 9-11 a.m. Burial will be in Machpelah Cemetery in Lexington.
Memorials may be made to St. Luke's Hospice House.
Mary was born August 25, 1936 in Kansas City, Missouri to Argyll and Imogene (Fisher) Dougherty. She graduated from Southeast High School in Kansas City. Mary worked in quality control for Hallmark Cards until she married John William Butler in July of 1955 in Kansas City.
They then owned and operated Butler Refinishing, Upholstery and Antiques and Main Street Memories Bed and
Breakfast in Lexington. Survivors included her husband John of the home; children, Michael Butler and wife Diana of Overland Park, Kansas, Kevin Butler of Overland Park, Kansas and Michele Fry and husband Brian of Excelsior Springs, Missouri; eight grandchildren and seven great grandchildren. Mary was preceded in death by her parents; brother, Ned Dougherty; and great grandson, Colton Butler.