Mary Marjorie Hughes of Higginsville, MO, age 97, passed away peacefully at her home on Monday, December 7, 2020.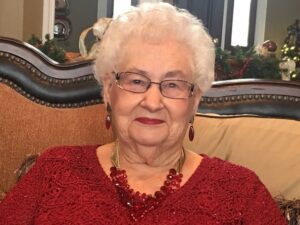 Funeral arrangements have been entrusted to Hoefer Funeral Home and online condolences may be made to the family at www.hoeferfuneralhome.com
She was born on January 26, 1923 to William Eugene Johnson and Lela Kathryn (Hudspeth) Johnson in rural Independence, Missouri. She married William George "Bill" Hughes of Buckner, Missouri on December 28, 1944.
Marjorie graduated from Buckner High School in 1941 and from the University of Missouri, Columbia in 1944. Marjorie began her teaching career in 1961 spending two years at Grand Pass and the rest of her career was spent in the Higginsville School system, retiring in 1989.
Marjorie was an active member of Grace United Methodist Church in Higginsville and received her 70 year membership pin recently. She was a past member of the Delta Kappa Gamma, MU Chapter, DAR, PEO, EK, 4-H leader, Red Hats and church circles.
She is survived by her four children, Martha Thoman of the home, Sharon and Tim Rinne of Higginsville, Vicki and Jean Hughes of Excelsior Springs, Ann and Jim Long, Osage Beach; seven grandchildren, Pam and Tim Benton, Scott and Kim Hughes, Melissa and Dr. Guy Kline, Stacy and Jason King, Kyle and Amy Rinne, Brett and Virginia Diaz de Leon-Rinne and Brent Thoman; twelve great-grandchildren and two great great-grandchildren; one sister, Hazel Hopkins, and numerous nieces and nephews. She was preceded in death by her parents; husband, Bill on May 28, 2000, and one brother, Russell Johnson.
A private, family graveside service will be held with the Rev. Terry Cook officiating at the Buckner Hills Cemetery in Buckner, Missouri and will be laid to rest beside her husband and her parents.
Casket bearers: Mark Johnson, Jack Hopkins, Scott Hughes, Kyle Rinne, Brett Rinne and Colton Hughes.
In lieu of flowers, memorials in memory of Marjorie may be made to: American Legion Post 223 or Grace United Methodist Church and mailed to: c/o Martha Thoman 19464 Hwy FF Higginsville, MO 64037.