KANSAS CITY, Mo.- A detective with the Maryville Department of Public Safety received an award yesterday for his community service efforts presented by the U.S Attorney's Office Law Enforcement Coordinating Committee.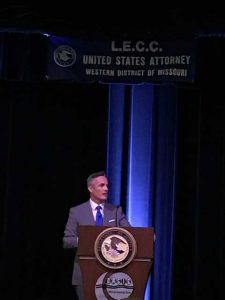 According to the a release from the U.S. Attorney's Office for the Western District of Missouri, Detective Sgt. Ryan Glidden received the 2018 Enoch B. Morelock Award. Glidden has 21 years of law experience, including 13 years with the Maryville Department of Public Safety.The Enoch B. Morelock Award is an annual recognition of outstanding moral character, service to law enforcement and service to the community.
Glidden was honored on Thursday during the 16th annual LECC Training Seminar in Springfield. The prestigious law enforcement award is presented annually and named in honor of Sullivan County Sheriff Enoch B. Morelock, who was the first recorded line of duty death in the Western District of Missouri back in 1987.
Following an event earlier in his career, Glidden recognized the need for equipment and training so law enforcement officers could assist victims of gunshot wounds and severe trauma to stop bleeding. He wanted to equip every officer in his agency with a "go-bag" trauma kit. Glidden collaborated with a local medic to conduct the training and began the ambitious project of raising money to pay for the kits, as his agency could not afford to purchase them. Through hard work and his leadership, $24,000 was raised to fully fund the project for his agency.
Realizing that the local sheriff's office faced the same financial restraints as his own agency, Glidden directed his attention to seeking funds and assisted in raising nearly $18,000 to fully equip that agency with trauma kits.
Not done giving yet, Glidden realized that the regional dive team that assists agencies in multiple states needed assistance in securing additional equipment. He set out to raise over $21,000 to purchase a much-needed rescue boat with a motor capable of transporting a six-person dive crew as well as protective equipment. This equipment provides greater capability of providing the necessary life saving operations, which would not have been possible without this funding.
Glidden spends a lot of his free time volunteering as a Big Brother for Big Brothers Big Sisters of Nodaway County. He has a unique connection not only to his little brother but also to his little brother's mother, helping her navigate life, especially when things aren't going well.
Glidden was nominated by two different individuals from two different law enforcement agencies. Among the nominations and 10 letters of support for Glidden, it was written, "When our program has a need, Ryan is always one of the first people to step up when asked. He leads by example. His kindness to others and calm nature make him an excellent mentor, friend and law enforcement officer. Beyond what he brings to our organization, he is an endearing individual with an obvious passion for our community and a drive to help others."