WASHINGTON – According to a press release from the office of Senator Claire McCaskill, she released a statement today after the Supreme Court issued its first deadlocked decision since the passing of Justice Antonin Scalia. The decision was in regards to a Missouri case, Hawkins & Paterson v. Community Bank of Raymore.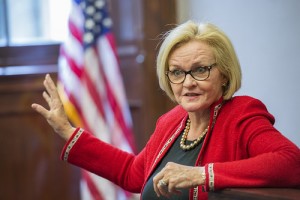 "Yesterday's deadlocked case is a stunning illustration of how the Supreme Court vacancy is doing real damage to this country's legal institutions," McCaskill said. "A case with real impact – this decision could be the first in a line of deadlocked cases that'll subject Missourians to uncertainty solely because Senate Republicans refuse to do their jobs and consider the qualified nominee. It was Justice Scalia himself who said, 'Proceeding with eight justices raises the possibility that, by reason of a tie vote, [the Court] will find itself unable to resolve the significant legal issue presented by the case…Even one unnecessary recusal impairs the functioning of the Court.' I hope my Republican collegues will heed his words and do their jobs soon, before damage is done to one of the founding pillars of our democracy."
The Supreme Court, since World War II, has operated only periodically with fewer than nine justices while the Senate was considering a replacement or the replacement was waiting to be sworn in. The mass majority of vacancies were for short periods of time, and the two most recent were for 8 and 16 days. The Republicans' refusal to consider a Supreme Court nominee will lead to the Court operating with fewer than nine justices for more days than any time in World War II.
This is will likely have an impact on the Court's next term, since the Court decides which cases to hear in the months before a term begins.