KANSAS CITY, Mo.– As part of Senator Claire McCaskill's 'College Affordability Tour,' she stopped in Kansas City today to hear directly from students, educators, and families on their input for making college more affordable and accessible.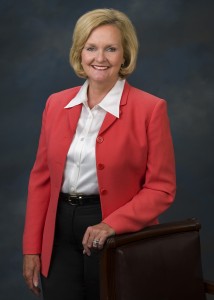 McCaskill held roundtable discussions at Kansas City's Lincoln College Prepatory Academy and at Belton High School and outlined broad goals for curbing rising college costs and ballooning student debt.
"We have a crisis in our country," said McCaskill. "We are seeing it in the incredible load of student debt enveloping our families. And what student loan debt does is diminish our economic growth."
Her policy goals include refinancing options for graduates with student loan debt, pushing institutions to improve graduation rates, boosting Pell Grants by indexing them to inflation to ensure they increase as the cost of tuition rises, creating stronger accountability and transparency for institutions, resources to continue federal funding for critical job training programs, and fixes to the 90-10 rule, which would include federal assistance for military personnel and veterans.
McCaskill also called into question elected officials in Jefferson City for threatening cuts to higher education when they should be finding ways to increase college accessibility and affordability — a fiscally responsible policy for Missouri in the short and long term.
"Hearing from these folks directly will shape my work in Washington on much-needed reforms to our Pell grant and loan refinancing systems, on transparency and acountability for institutions, and on incentivizing higher and faster graduation rates so we can better help Missouri students and families succeed," said McCaskill.