Click to hear KMZU's Ashley Johnson speak with Miss Missouri 2015, McKensie Garber:
The lights are shining. The crowd is silent. McKensie Garber takes a deep breath in before taking her first step in her Miss Missouri dance routine. Garber was crowned Miss Missouri 2015 on Saturday, June 13 at the pageant in Mexico, Missouri.
Garber grew up just outside Hale, Missouri before she left the state to attend college at Oral Roberts University in Tulsa, Oklahoma. Now, Garber proudly wears the crown for the state of Missouri, what she considers a huge accomplishment for a girl from a small town.
"You hear about small town heroes and to be considered one by others … it is such a big honor and accomplishment for me," Garber said. "It really is that small town upbringing that made me the person that I am today. Going to such a small school, I had so many opportunities to be involved in different activities and gain leadership experience. That is what has empowered me to go on and do all these things and become Miss Missouri."
Garber will be traveling to Atlantic City in September for the Miss America pageant. She said it has always been a dream of hers to be a part of the Miss America show.
"I am looking forward to performing my talent, which is a jazz On Point to Michael Jackson's 'PYT: Pretty Young Thing' on that famous Miss America stage," Garber exclaimed. "It has been my dream, since I was a little girl, to perform a point dance on the Miss America stage. I think that it's an incredible, once-in-a-lifetime experience. I get goosebumps just thinking about it."
Garber began dancing when she was still a little girl in school in Hale, and is excited to bring her passion to life in front of a national audience this fall. Hard work and determination helped her find success in her dreams. During an interview with KMZU's Ashley Johnson, she said she hopes other girls are able to achieve their aspirations.
"Believe in the power of your dreams," Garber said. "You are the one that makes your dreams happen. It's not your situation, not where you come from, not what other people define you as … you are the person who chooses the direction of your life."
Miss America began nearly 100 years ago on the Atlantic City Boardwalk as a swimwear competition, and has since become the largest scholarship program for women in the United States.
"Each point of the crown symbolizes something the women in the program should embody," Garber explained. "That is service, scholarship, style and success."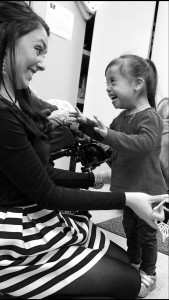 Garber said Miss America is not a "beauty pageant," but a program designed to promote role models in the community. Part of the service promoted with the organization is with the Children's Miracle Network. Interested in a future in writing, public speaking and acting, Garber enjoys her time working with children and encouraging them to create their own path in life.
"One of my favorite quotes is from Eleanor Roosevelt and she said, the future belongs to those who believe in the beauty of their dreams," Garber said. "That is so true for every girl out there that has a dream … just to believe in herself and realize how capable she is."