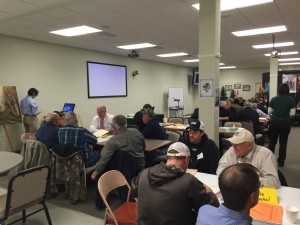 CARROLL COUNTY, Mo. – The Missouri Department of Conservation held a workshop in the basement of the Carrollton Public Library, Thursday, February 4, 2016, dealing with zoning, migration and waterfowl hunting dates for the 2017-2020 season.
Andy Raedeke, a waterfowl biologist for the Missouri Department of Conservation, spoke with KMZU's Shaylee Miller at the event. He spoke on topics of importance of hunter attendance, the consensus of the meeting, and when hunters can look forward to a decision from the MDC.
Another person that spoke with KMZU's Shaylee Miller was Brent Mathis, a waterfowl hunter from the Carroll County area. Mathis spoke as a local hunter and gave his thoughts on the topic on hand.

Randy Carr drove from the Orrick area to attend the meeting with a group of Kearney hunters. Carr also took the time to speak with KMZU's Shaylee Miller about his thoughts on the workshop.

It was noted by multiple people in attendance that the overall consensus, at least of the people in this workshop, is that the Missouri river should not in the north zone and that the duck season should be pushed back any where from 1 to 3 weeks into the month of January. There didn't seem to be a big push as to whether the season should either start later or to have a break in the middle, to get the season into January.
Every person that KMZU's Shaylee Miller spoke with indicated that if hunters want to give their opinion and help the MDC make a decision for the best duck seasons possible, they should attend these meetings. MDC stated that every survey completed at these workshops carry the same amount of weight and they take them seriously.
Follow this link to view the upcoming meeting dates and locations.