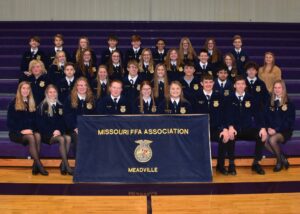 Conduct of Chapter Meetings Kids that competed at State: Kaydence Coram, Ethan Burnett, Aubrey Schreckhise, Xavier Stone, Jacob Bartz, Mallory Lambert, Alexis Edwards, and Macy Lambert.
Rylee Meneely is earning her State FFA Degree and will be our chapter president next school year.
Jayce Mollohan is competing at state in her Ag Sales Entrepreneurship proficiency. She won 1st place at area and we will find out results on Saturday at State FFA Convention. She will also be our chapter reporter next school year.