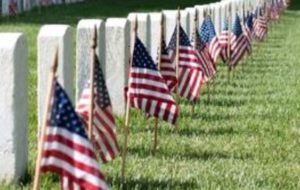 Public ceremonies have been cancelled at State Veterans Cemeteries that were scheduled for Memorial Day.
Cemetery Program Director, Jim Nugent, with Missouri Veterans Commission, says all five cemeteries, including locations in Higginsville, and Jacksonville, will instead, provide a video honoring veterans, May 25, on its social medial platforms. Directors will render honors, and lower flags. Nugent says the decision is at the behest of Centers for Disease Control due to health concerns.
Cemeteries are also located in Bloomfield, Springfield, and Ft. Leonard Wood.