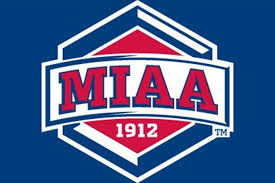 KANSAS CITY, Mo. (MIAA Press Release)– MIAA Football Media Day will be streamed live for the third straight year on the MIAA Digital Network.  The broadcast will be available free of charge and will begin at 8:45am on Tuesday, August 2nd.
The event can be accessed by clicking on the Game Central by Stretch Internet button on the home page of the MIAA website or through the following link, http://portal.stretchinternet.com/miaa/
The event will begin with opening comments from MIAA Commissioner, Dr. Bob Boerigter which will include the release of the preseason coaches and media polls.  The complete schedule including times for each school is listed below.
Press Conference Room Schedule*
9 a.m. Dr. Bob Boerigter (MIAA Commissioner)
9:15 a.m. Supervisor of Officials Phil Laurie
9:30 a.m. Washburn Coach Craig Schurig, Quarterback Derek McGinnis and Linebacker Cody Heiman
9:45 a.m. Pittsburg State Coach Tim Beck, Quarterback John Roderique, Jr. and Linebacker Spencer Brown
10 a.m. Missouri Western Coach Jerry Partridge, Defensive Back Donte Watkins and Linebacker Darrian Bass
10:15 a.m. Missouri Southern Coach Denver Johnson, Quarterback TJ Fleeton and Safety Chris Goss III
10:30 a.m. Central Missouri Coach Jim Svoboda, Quarterback Garrett Fugate and Linebacker Austin Miller
10:45 a.m. Lindenwood Coach Patrick Ross, Linebacker Connor Harris and Quarterback Mason Bendigo
11 a.m. Northeastern State Coach Rob Robinson
11:15 a.m. Nebraska-Kearney Coach Josh Lamberson, Offensive Lineman Luke Browne and Linebacker Tyke Kozeal
11:30 a.m., Fort Hays State Coach Chris Brown, Wide Receiver Tyler Bacon and Linebacker Alex Schmidtberger
11:45 a.m.  Central Oklahoma Coach Nick Bobeck, Quarterback T.J. Eckert and Defensive Lineman Deontay Wilson
12 p.m. Emporia State Coach Garin Higgins, Wide Receiver Mitchell Foote and Linebacker Kole Schankie
12:15 p.m. Northwest Missouri Coach Adam Dorrel, Quarterback Kyle Zimmerman and Safety Kevin Berg
*Players appearing are subject to change