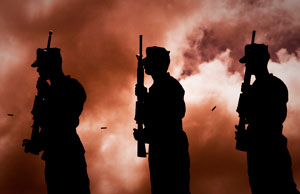 One military family did all they could to prepare their children for the Army deployment of now retired Army Maj. Jeff Hall.  His two daughters, and his wife Sheri, did not expect him to come back any different from when he left.
Problems soon arose after his return, however, as Mrs. Sheri Hall explained in a recent interview with KMZU.
Maj. Jeff and Sheri Hall spoke with KMZU's Ashley Johnson about the struggles they faced, as well as the help and support they received from family, friends, and one campaign by the Defense Centers of Excellence, to treat the "invisible wounds" of combat, through 'Real Warriors', a program dedicated to treating psychological health, as well as traumatic brain injury.
Major Hall suffered from post-traumatic stress disorder, (PTSD), as well as thoughts of depression and suicide.
April is the National Month of the Military Child.  Children, as well as spouses, face the pressures of deployment, separation, and post-traumatic stress disorder, along with the military member of the family.  More than 1.9 million military children potentially cope with military separation, and re-integration issues.
Mrs. Sheri Hall provided possible resources for military families to use in order to cope with those issues.
(866)-966-1020.
e-mail at:  resources@dcoeoutreach.org.