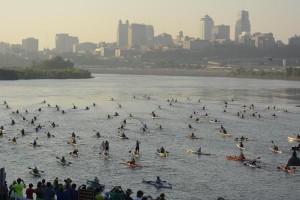 UPDATE: Tina Brooke of Carrollton is participating in the race. She last checked in this morning, Friday, July 31, 2015 at 7:04 a.m.
KANSAS CITY, Mo.- Today marked the beginning of the infamous Missouri American Water MR340 endurance river race.
The Missouri 340 is an endurance race across the state of Missouri. Competitors will start in Kansas City and finish, hopefully, in St. Charles. With numerous towns, the course offers plenty of opportunity for resupply while en route. The Missouri River is also incredibly scenic and isolated in some stretches, with wildlife and beautiful vistas to rival any river in North America. But if you're trying to win this race, you won't have time to enjoy any of it. The tenth annual race started in Kansas City this morning and drew hundreds of participants.  The starting point of the race is Kaw Point Park where solo boats began first followed by all other boats.
Participants are allowed exactly 88 hours to complete the course. There are nine checkpoints along the route where paddlers are required to sign in and sign out. Cutoff times will be associated with these checkpoints based on the 88 hour pace. Failure to checkpoint deadlines is grounds for disqualification. To finish this race in 88 hours is a huge accomplishment. Only 2/3 of the teams were able to do that last year. The race will officially end at exactly midnight of July 31, 2015, (88hours) or when the last boat has reached Mile 29 marker 340 miles downstream, whichever comes earlier. A team's participation in this event ends when they have reached the Mile 29 marker before midnight of July 31, 2015, or when they notify race headquarters that they have withdrawn. Teams still on the Missouri River after midnight of July 31st are electing to continue independently of the race.
Checkpoints include Lexington, Waverly, Miami, Glasgow, Huntsdale, Jefferson City, Hermann, Augusta, and the end of the race in St. Charles.
You can track live results @ http://raceowl.com/MR3402015