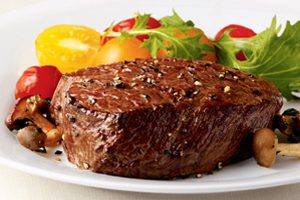 Missouri Cattlemen's Association (MCA) has partnered with the Missouri FFA Association to raffle off the beef from the 2017 Missouri State Fair grand champion market steer. The steer was exhibited by Katelyn Gillum of Unionville, Missouri and was purchased by Dairy Queen/Guesa USA LLC and Steak 'n Shake/Guesa USA LLC/Jorge Guevara of Sedalia, Missouri. The buyers decided to donate the steer to the Missouri FFA Leadership Fund. Together, Missouri FFA and MCA are working to make the most of this donation and help encourage youth to get involved in the beef Industry.
"We are very excited for this opportunity," said Leon Busdieker, Missouri FFA Association state advisor. "Raising beef cattle continues to be one of the top projects for Missouri FFA members. This raffle is going to benefit FFA members across the state while engaging youth in the local participating communities."
Tickets are on sale now through January 6, 2018. Individual tickets are $5 or five tickets for $20. They can be purchased at
mocattle.com
or you may purchase tickets from participating local FFA chapters.
"The funds generated by this raffle will be helping FFA members, and that alone should motivate people to buy tickets," said Butch Meier, MCA president.
Two winners will be selected on January 6, 2018 Cattle Industry Convention and MCA Trade Show. Each winner will receive a quarter of beef from the grand champion steer. The other two quarters will be given to the top two FFA chapters that sold the most tickets. The money collected from the raffle will be generated for a cash prize for the top exhibiting FFA chapter at the 2018 MCA All Breeds Junior Show, June 8-10, 2018, in Sedalia, Missouri.