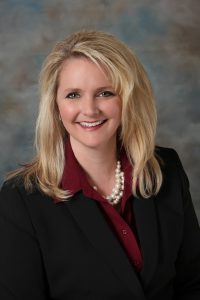 JEFFERSON CITY, Mo. – As an advocate for agriculture throughout her career, Chris Chinn is taking her efforts to the next level. Chinn was named Director of the Missouri Department of Agriculture
KMZU's Sara Miles was able to talk with Director Chinn about the first month in her new role as well as advocating for agriculture and budget cuts.
As a fifth generation farmer and leadership positions in various agriculture groups for more than 12 years, Director Chinn is no stranger to Missouri agriculture. Chinn has been involved in organizations such as the Missouri Farm Bureau, U.S. Farmers and Ranchers Alliance, and Agricultural Leaders of Tomorrow.
Chinn also lived on her family's farm in Shelby County where they operate a farrow-to-finish hog, cow-calf, and crop farm.
Chinn says that she is learning a lot about the Department of Agriculture as well as making sure that farmers and consumers both know that the Department of Agriculture is there to help.
Some problems that Chinn plans to face in the future include rural broadband, growing the market for Missouri products, and enhancing the current programs to make them more user friendly.
Budget cuts have been happening throughout the state government, and the Missouri Department of Agriculture is no exception. Chinn says, " The Department of Agriculture's budget was cut, but the cuts made should not impact the services that we are able to offer."
Chinn stated, "We should be able to continue to operate as we have In the past."
As a trailblazer for agricultural advocacy through social media and public speaking, Chinn encourages others to be advocates for agriculture as well. Chinn suggests to "just talk about what you do on your farm or ranch."
Even people who are not directly involved with agriculture can get involved because, "We all eat three times a day."
For more information on Director Chinn or the Missouri Department of Agriculture, visit www.agriculture.mo.gov.