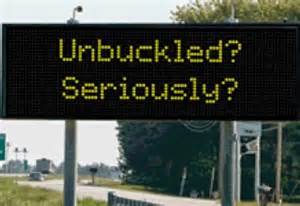 Click below to listen to KMZU's Andy Campbell speak with Linda Wilson Horn, Communications Coordinator Missouri Department of Transportation
JEFFERSON CITY, Mo.- Missouri drivers may have noticed some changes in the past few months on some of the 250 digital signs on Missouri's interstates and major highways. The Missouri Department of Transportation posts the signs for public safety and now Missouri drivers can vote on their favorite. From May to June of 2015 more than 830 drivers voted on their favorite message.
The results show more than just which quirky comment is most liked, signs expressing driver behavior concerns appeared to be the top of the poll with "Pass on Left, Drive on Right," "Put Down Your Phone and Drive," and "Turn Signals The Original Instant Message" as the top three signs.
Messages themes change each month depending on the time of year or campaign promoted by the Missouri State Highway Patrol. July 2015's messages focus on not drinking and driving, buckling up, and reminding parents not to leave children in hot cars.
MODOT is looking for new ideas for messages. New messages can be submitted to MODOT at MoMessageBoards@modot.mo.gov the space is limited to three lines with 16 spaces on each line.