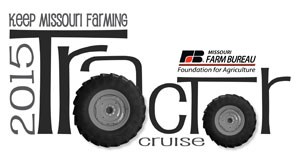 MISSOURI – The Missouri Farm Bureau's second annual Tractor Cruise is approaching in mid-July. This years theme is "Keep Missouri Farming." The cruise will begin and end at the Caldwell County Steam Engine Fairgrounds. Greg Gaines, the Regional Coordinator for the Bureau, tells KMZU about the non-profit programs that benefit from this fundraiser.

Rain or shine the cruise will take place on Saturday, July 18
th
. Check-in for the cruise will begin at 8 a.m. and the tractors will start their drive at 10 a.m. If you register your tractor before July 10
th
the cost will be just $35. However, if you wait until the day of the price will increase to $45. Lunch is included in the registration fee as well. The cruise will feature vintage tractors only, so entering only those tractors from 1972 and older will help keep with that requirement. If you do not have a tractor that fits this criteria, there are still sponsorships available for purchase.
The programs that the Missouri Farm Bureau offers benefitting youth and ag pursuits include, ag in the classroom mini-grants, century farms, scholarships, leadership training and collegiate Farm Bureau organizations. These programs benefit from the tractor cruise and tie in the theme of "Keep Missouri Farming," with their ag-youth base.