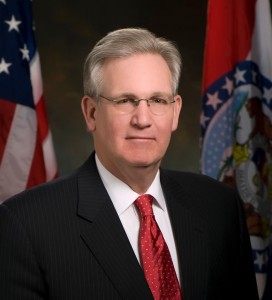 Missouri's Democratic Governor Jay Nixon announced his veto of House Bill 116 this morning during a press conference in Kansas City, Missouri.
Missouri would have been the 26th state to adopt the "Right to Work" bill. Critics of the bill claim the bill would lock up business owners in the state. According to Democratic Representative and House Minority Leader Jake Hummel, says the legislation was harmful to the state's economy.
"Threatening business owners with imprisonment for negotiating mutually beneficial contracts with their labor unions is the very definition of 'business unfriendly,'" Hummel said. "Given the strong bipartisan opposition to this radically extreme and dangerous legislation, we are confident the governor's veto will stand."
State Representative Eric Burlison disagrees. He calls the move by Governor Nixon "disappointing."
"… the governor has again turned his back on the people of his state by vetoing a pro-worker bill that would create the kind of family-supporting jobs we need to accelerate our economic engine," Representative Burlison said. "We have documented proof that Freedom to Work helps to attract job creators, and workers in Freedom to Work states see their wages increase at a faster rate than non-Freedom to Work states."
Governor Nixon held a conference this morning at the For Motor Company's Kansas City Assembly Plant, which is now the number one Ford production plant in the world. During his appearance, Nixon said the ability for workers to collectively bargain is foundational.
"This extreme measure would take our state backward, squeeze the middle-class, lower wages for Missouri families, and subject businesses to criminal and unlimited civil liability," Nixon said.