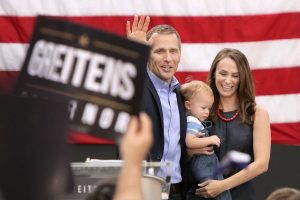 ST. LOUIS, Mo – The wife of Missouri Governor elect Eric Greitens was reportedly robbed at gunpoint Monday night.
Greitens' wife, Sheena informed St. Louis police several males demanded personal property, which included a cellphone and laptop computer.  Greitens says, the incident has strengthened his resolve and commitment to the needs of law enforcement, and community safety.
The incident happened after Sheena Greitens left a restaurant and found her car.
St. Louis police arrested three individuals under 21 years of age in connection with the alleged robbery.