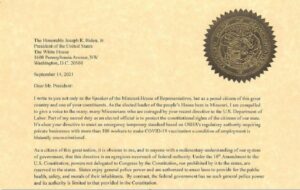 JEFFERSON CITY, MO – The speaker of the Missouri House has submitted a letter, drafted Tuesday, to be sent to the U.S. president on the issue of vaccine mandates.
Speaker Rob Vescovo, in the letter publicly released Tuesday calls the federal vaccine mandate "blatantly unconstitutional." Vescovo additionally says Occupational Safety and Health Administration (OSHA) does not have the authority to issue the mandate, since it is not vested with that authority explicitly by Congress. Vescovo compared the mandate to portions of the Affordable Care Act struck down by the Supreme Court, which ruled, citing the Commerce Clause, even Congress cannot compel individuals to engage in commercial activity. He also quoted from historic Supreme Court decisions from 1905 and 1922 that held public health matters were the jurisdiction of the states.
The speaker also cited last month's Supreme Court decision against the CDC's nationwide moratorium on evictions, which also ruled the edict lacked explicit authority from Congress.
A statement from the Missouri House reads thus:
"House Speaker Rob Vescovo, Speaker Pro Tem John Wiemann, and Majority Floor Leader Dean Plocher today submitted a letter to President Joe Biden calling on the nation's leader to provide his legal justification for a proposed vaccine mandate for private businesses. The letter, which was written by Vescovo and signed by Wiemann, Plocher, and the House Republican Caucus, refers to the president's directive as 'an egregious overreach of federal authority' and as 'blatantly unconstitutional.'"

"The three House leaders said their goal with the letter is to give a voice to the many Missourians who are outraged by the president's directive to enact an emergency temporary standard based on OSHA's regulatory authority requiring private businesses with more than 100 workers to make COVID-19 vaccination a condition of employment. They noted that as elected officials it is their duty to protect the constitutional rights of the citizens of Missouri."

"'It's clear there is no legal precedent or constitutional authority granted to the president that allows him to trample on the constitutional rights of Americans. This proposed vaccine mandate is a clear overreach of federal authority and something we will fight wholeheartedly to defend the freedoms of our citizens,' said Vescovo, R-Arnold, Wiemann, R-O-Fallon, and Plocher, R-Des Peres."

"The letter notes the U.S. Constitution limits the power of the federal government and protects the authority of states to enact laws to provide for the public health. It also cites case law and legal precedent to support his position that the U.S. Supreme Court has never allowed the federal government to usurp the powers of the states when it comes to public health."

"The letter states, 'No existing federal law imposes vaccination requirements on the general population, and for good reason. The authority to do so is nonexistent. Even Congress lacks the authority to enact a policy like the president intends to impose.'"

"With the letter, the three House leaders call on President Biden to provide sufficient legal basis for the "proposed directive that appears to trample on the constitutional rights of American citizens."