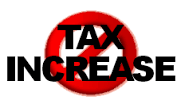 JEFFERSON CITY, MISSOURI – Earlier today, the Missouri House of Representatives passed House Concurrent Resolution 58, which disapproves the Missouri Tax Commission's recommendation of a five percent tax increase on Missouri farmers and ranchers. A bipartisan 133-24 vote confirmed the resolution, sponsored by Representative Bill Reiboldt. The resolution is supported by the Missouri Cattlemen's Association, and MCA President, Keith Stevens, said now is not the time to increase taxes on Missouri farmers and ranchers.
The Missouri Tax Commission makes recommendations for tax adjustments on agricultural property every two years, and two years ago, the Commission increased taxes on farm and ranch ground by five percent. This tax hike went into effect for fiscal year 2015. According to Stevens, the formula used by the tax commission when considering taxes on farm and ranch property does not take into account flooding – or weather of any kind – volatility in the market or the value of the food produced from the land. Stevens said an increase of any rate could prevent expansion and growth in the state's top industry.
The resolution will now move on to the Missouri Senate for consideration. Senators Mike Parson and Will Kraus have filed a similar resolution in the Senate.