JEFFERSON CITY, Mo. – Governor Jay Nixon announced Wednesday that Missouri is number one in the nation at holding down tuition increases.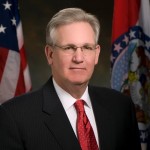 According to The College Board's 2015, Trends in College Pricing report, Missouri's public four-year institutions have had the lowest rate of increase since their 2008 report. The tuition and fee increase of just 9 percent between 2008-2009 and 2015-2016 is the smallest increase in the nation, with the average national increase at thirty three point five percent.
Nixon thanked our outstanding higher education institutions for working hand in hand with the government to make Missouri a national leader in affordability and quality.