JEFFERSON CITY, Mo. — A national report reveals Missouri is ranked third in assistance services for individuals with intellectual and developmental disabilities.
The report, published by United Cerebral Palsy, has Missouri ranked only behind Arizona and Maryland. In a news release from the Governor's Office, Missouri Governor Jay Nixon said teamwork is to thank.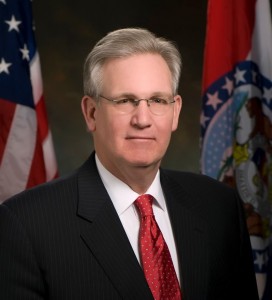 "When I took office in 2009, many Missourians had spent years waiting to get the community-based services they needed to live fuller, more productive lives," Nixon stated. "Working together, we changed all that, creating the Partnership of Hope and eliminating the waiting list for in-home Medicaid services."
The Partnership of Hope, created by Governor Nixon in 2010, now benefits over 2,700 Missourians in 99 counties.
Director of the Division for Developmental Disabilities for the Missouri Department of Mental Health Valerie Huhn, said efforts made by Governor Nixon and the Senate Bill 40 boards have been crucial in the state's success.
"It's possible because we have excellent providers, we have excellent supporters," Huhn said. "Almost all of our counties have what's called the Senate Bill 40 board, who collect a local property tax, and then they use that to help us help individuals with developmental disabilities."
Huhn said the Division of Developmental Disabilities has worked closely with the Governor's Office and the Senate Bill 40 boards in the development of Partnership for Hope. She explained this program has been instrumental in improving services to Missouri residents.
"It's basically a waiverm a Medicaid waiver is what it is," Huhn said. "It's a way for us to pay for services utilizing local money, state money and federal money for individuals who just need a little bit of services to get by."
The national report also cited Missouri as the second most improved state since 2007. According to the Governor's Office, Missouri increased resources specifically dedicated to individuals living in communities with intellectual or developmental disabilities.
"Last year, this time, we had 725 individuals on our in-home wait list," Huhn explained. "Today, we have 165, and those individuals are on there for about a month. So we don't have a wait list anymore … I'm the only state that can say that."
Governor Nixon agreed, stating the importance of the "Case for Inclusion" ranking for the state.
"This national ranking is a great testament to the efforts of our Department of Mental Health, provider agencies and local Senate Bill 40 boards, which continue to make a real, life-chaging difference for thousands of Missourians and their families," Nixon stated.
Huhn said the goal now is to turn attention toward promoting the growth of independence for individuals with disabilities, and continuing the excellent services the state already offers.
"To know that if there's an individual that comes to our door and needs services, we can provide them those services," Huhn said. "That's not something they get to say in a lot of states."