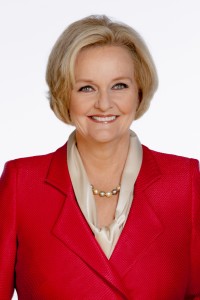 Missouri Senator Claire McCaskill scored what her office referred to as a "legislative hat-trick" after successfully including provisions in the new federal Highway Bill created by McCaskill targeted at helping Missourians by boosting jobs, streamlining permitting, protecting consumers and strengthening power grid reliability.
The long-term highway bill includes McCaskill's bipartisan plan to boost job opportunities by streamlining the federal permit process, which has been "bogged down" by bureaucratic "red-tape"  and as her office states, has previously hindered the job-creation and investment processes. It also includes a new grid reliability plan preventing situations in which a utility is penalized for running a power plant after being ordered to do so by the Department of Energy for reliability purposes. This measures is aimed as easing conflicting regulations and statutes.
The legislation is part of the implementation of the new long-term highway bill, which includes provisions of the Federal Permitting Improvement Act, which Senator McCaskill introduced as part of a bipartisan measure with Senator Rob Portman of Ohio. In addition the highway bill also includes the provisions McCaskill authored in the Raechel and Jacqueline Houck Safe Rental Car Act, requiring rental cars subject to recalls be grounded and repaired before they are used by consumers. The legislation has the backing of the rental car industry, auto safety groups, and General Motors.