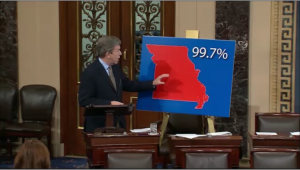 The United States Senate has upheld the controversial Waters of the United States rule, granting the EPA extended jurisdictions.
The Senate fell just eight votes short of invoking a cloture and taking up a veto override. The measure was blocked from moving to an override vote by 52-40.Missouri Senator Roy blunt spoke out against the event on the Senate floor Thursday, January 21.
According to the Senator, WOTUS would allow the EPA control of 99.7% of Missouri waters, due to a redefinition of the term "navigable" waters.
It is speculated there could be an effort as early as next week to bring up the issue again when the Senate considers an energy bill.