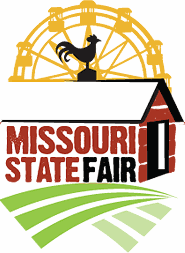 SEDALIA, MO – The State Fair Director, Mark Wolfe, announced attendance for the 2015 Missouri State Fair yesterday. Final numbers for the 11-day event confirm that 352,888 people attended this year's Fair. Wolfe said "The 2015 Fair offered something for the whole family," and "Our agriculture showcase, combined with great concerts and entertainment, demonstrations, shopping, Fair food and the great weather all added up to draw folks from across Missouri and the Midwest to the Fair this year."
Featuring nearly 30,000 livestock and competitive exhibit entries, with nearly 4,000 Missouri 4-H and FFA youth participants, the Fair continues to be a platform that fosters growth among Missouri's youth and agriculture. Highlights helped make this year successful, including special celebrations and commemorative activities such as Opening Day, Military Appreciation Day, Governor's, Legislator's and Judges' Day and Youth in Agriculture Day, which attracted diverse crowds.
This year's Military Appreciation Ceremony was again well attended, with more than 39,000 people on the fairgrounds, including military service men and women and their families. Wolfe said he is proud of the State Fair's efforts to honor our military service men and women. The highest attended concert in 2015 featured country legends Alabama who performed for a near sell-out crowd on Friday, August 21, 2015. It was the group's tenth Missouri State Fair appearance.
The Missouri State Fair has been recognized as one of the premier agriculture showcases in the world by the International Association of Fairs and Expositions several years in a row now, and as a top summer destination, highlighting the best of the best in Missouri agriculture, cuisine, crafts and more.
The 2016 Fair will be held August 11-21, 2016 in Sedalia. For more information about the 2016 Fair, visit www.mostatefair.com