JEFFERSON CITY, Mo. — Monday, May 1 will be the first day for livestock exhibitors to secure a camping spot at this summer's Missouri State Fair.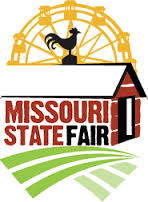 A press release from the Missouri Department of Agriculture indicated that beginning at 9:00 a.m. on Monday, May 1, any livestock exhibitor who will be showing at the 2017 State Fair would be able to reserve their camping spot.
Exhibitors should expect delays on the Missouri Department of Agriculture's website the morning the reservations go live, as the site has traditionally experienced very high traffic as people have rushed to secure their camping spots.
Once the campsite is reserved, livestock exhibitors will be able to claim their reservations when the campgrounds open on Sunday, August 6.
A reminder that these campsites are only available to livestock exhibitors, persons with disabilities and commercial vendors.
Visit the Missouri State Fair website to find out more information or to reserve your camping spot beginning May 1.