UPDATE: 5:50  p.m. Thursday, June 11
SEDALIA, Mo. – Supporters of the Missouri State Fair have reason to celebrate today. The fair announced Thursday it will take place as scheduled from August 13 to 23. Gov. Mike Parson, who described himself as an ag governor at Thursday's press conference, said the fair has only been canceled once in 100 years – that being during World War II — and he didn't want a second cancellation on his watch.
"What I've already said about the state fair is you got to remember the core values," Parson said. "It's about youth and agriculture, and sport and agriculture. My direction is get back to those basics and maybe some of the other things we won't do."
The popular governor's ham breakfast is one of the events that will not happen in 2020, he said.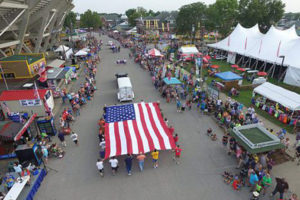 For those who have been waiting to hear if Missouri State Fair will take place this year, state Sen. Cindy O'Laughlin broke the news this morning that will fair will go on.
"Hot off the press. We ARE having a state fair," O'Laughlin's post read on her Facebook page Thursday morning
Official confirmation will likely come from Gov. Mike Parson at his daily press conference at 3 p.m. today, June 11. The Republican senator from Shelbina said the fair may be scaled back with limited vendors and concerts.