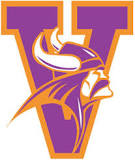 Marshall, Mo. (MVC Press Release)– The 2015-16 Missouri Valley College men's wrestling team was recognized by the National Wrestling Coaches' Association for its academic success.  The Vikings finished in the top 20 of NAIA programs in team GPA, and had three of the team's student-athletes recognized as All-Academic honorees.
As a team, the Viking men's wrestling program came in at No. 19 overall in the NAIA.  The three individual honors included Senior Gabi Musallam (San Diego, Calif.), Senior Jake Ekster (Houston, Texas) and Junior Donovan Fouchey (Oscoda, Mich.).  The three were honored for being NAIA All-Americans and having at least a 3.0 GPA.
Musallam, a criminal justice major, finished the season third in the 285 pound weight class, and a record of 20-3.  Ekster, a biology major finished fifth in the 141 pound weight class, becoming just the seventh wrestler in program history to achieve All-American status in all four years of competition, and a record of 10-4.  Fouchey, an exercise science major, placed sixth at 197 pounds and held a 25-12 record.  As a team, the Vikings finished fourth at the NAIA National Championships, the best finish as a program since 2010.