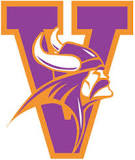 MARSHALL, Mo- (Press Release)-  The No. 5 men's wrestling team hosted No. 18 Baker (Kan.) University in a Heart of America Athletic Conference dual last week. The Vikings won the final five weight classes to earn a 26-9 victory. No. 1 Senior Gabi Musallam (San Diego, Calif.) won his 285 pound dual with a first period pin, and No. 2 Senior Riley Boomer (Hubbardston, Mich.) won at 174 pounds with a technical fall. The Vikings are 5-1 in duals this season. Nine Vikings are ranked indivudally in the latest NAIA Wrestling Coaches' Individual Rankings. The men's wrestling team will finish out dual matchups against conference opponents Saturday at the Heart Duals, featuring a matchup with No. 1 Grand View (Iowa) University.
The men's basketball team split a pair of Heart of America Athletic Conference home games last week. The Vikings lost to Evangel (Mo.) University on Orange Hush night, 94-76, but topped Graceland (Iowa) University, 75-57. Junior Brody Gronewold (Carthage, Ill.) led MVC in the Evangel game with 26 points and five rebounds. Against Graceland, Sophomore Kyle Hickey (Fort Worth, Texas) led with a career-high in points and rebounds, scoring 22 points and grabbing nine rebounds. The men's basketball team is 10-10 overall and 5-7 in Heart play.
The indoor track and field programs continued their seasons at the Missouri Southern Open in Joplin, Mo., over the weekend. Leading the men's team was Junior Phillip Cheruiyot (Kericho, Kenya) who placed second in the 5000 meter run, in a time of 15:26. Sophomore Dorothy Adams (Fort Leonard Wood, Mo.) led the women's team after placing No. 15 in the 400 meter dash, with a time of 1:01.74.
The women's wrestling team competed at the Bearcat Open at McKendree (Ill.) University, Saturday. Four individuals finished as medalists, led by a pair of sixth-place finishers. Junior Christy Powell (Powder Springs, Ga.) placed sixth at 116 pounds, and Senior Samantha Higa (Aiea, Hawaii) took sixth at 130 pounds. Higa finished with a 5-3 record at the tournament.
The men's volleyball team will open its 2016 season Tuesday, hosting Graceland (Iowa) University. The Vikings are coming off an 8-13 record in 2015 and will play in the newly formed men's volleyball Heart of America Athletic Conference. Other teams in the conference include Clarke (Iowa) University, Culver-Stockton (Mo.) College, Graceland and Grand View (Iowa).