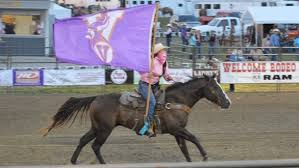 MARSHALL, Mo. (MVC Press Release)- The Missouri Valley College women's rodeo team capped off its best showing in program history at the College National Finals Rodeo in Casper, Wyo., as the reserve National champion.  Sophomore Kirbie Crouse (Gallatin, Mo.) led the team by capturing an individual National championship in the breakaway roping competition.  In all, four Vikings finished in the top eight of their respective events.
Crouse won the breakaway roping event with an average time of 10.9.  Her short go attempt Saturday night was a 2.9 to capture the National title, finishing with an average of .7 ahead of second place.  Sophomore Cassidy Webster (Kingdom City, Mo.) finished third in barrel racing, after putting up a time of 13.98 in the short go Saturday.  Webster's overall average was 56.48, which was an average of .39 behind the event winner.
On the men's side, Senior Cole Picton (Fort Dodge, Iowa) finished tied for fifth in the bareback riding event, ending with a score of 74.5 in the short go Saturday night.  Picton's overall average was 286.5.  Senior Travis Smith (West Plains, Mo.) placed seventh in bull riding, but did not score in his short go Saturday.  Smith ended his week with an overall average of 81.
The Viking women's rodeo team claimed the reserve National championship with a total score of 420.  The women's rodeo team finished only behind Blue Mountain Community College's 595 points.  The Viking men's rodeo team placed No. 21 in the standings with 197.5 points.  Feather River College won the men's team championship with 1,000 points.
The reserve National championship for the women's team is the best finish for the Viking rodeo program since the men's team claimed a reserve National championship at the 2010 College National Finals Rodeo.