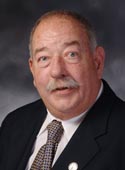 Click below to listen to KMZU's Mike Stone interview Missouri Representative Mike Lair.
From District 7, Representative Mike Lair, spoke with KMZU's Mike Stone on the subject of issues he is tackling in legislation. Creating a bill to redefine the length of time a person can receive assistance from a program known as TANF has been a topic Representative Lair has worked on extensively. The House and the Senate have created a bill, which is now awaiting the Governor's signature, but Representative Lair is not optimistic that the bill will be signed. Along with changing the amount of time a person can receive assistance from TANF, Congress also added tracking requirements to the bill. Representative Lair stated that the social services department was not doing a good job of keeping accurate records and it is important to know the number of people who are actively searching for employment.
Another topic Representative Lair spoke about was the possibility of public school consolidation, and Lair was quick to point out potential problems, such as the differentiation of schools budget per student, funds for transportation and Lair also stated that students who have not been taught as well could bring down the accreditation of their transfer schools with low test scores. With the debate on logistics still ongoing, there will most likely be much deliberation before a vote will be conducted.