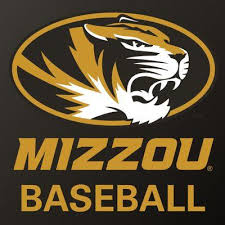 Mizzou Press Release:
Mizzou Baseball Weekly Report
Overall Record: 20-21 (4-14 SEC)
Streak: Lost 7
Last Week's Results (0-3)
Friday, April 22 at South Carolina – L, 8-5
Saturday, April 23 at South Carolina – L, 5-1
Sunday, April 24 at South Carolina – L, 9-2
This Week (Times Central)
Tuesday, April 26 vs. Missouri State – 6 p.m.
Friday, April 29 vs. Tennessee  – 6 p.m.
Saturday, April 30 vs. Tennessee – 3 p.m.
Sunday, May 1 vs. Tennessee – 12:30 p.m.
Mizzou Notes
Mizzou lost three games at No. 12 South Carolina last week and did not play a midweek contest … In the Friday game at South Carolina, Mizzou was leading the game, 4-1, after 5.5 innings, but a pair of errors set up a four-run sixth inning for South Carolina, who rallied past the Tigers for an 8-5 win … Even with the four-run sixth inning, Mizzou was still in the game until senior LHP Austin Tribby allowed a three-run eighth inning to put South Carolina up 8-4 … Senior 1B Zach Lavy homered in the ninth inning, which would have been the game-tying shot had it not been for the three-spot in the eighth inning … On Saturday, South Carolina jumped all over Mizzou starter Tanner Houck in the first inning, plating a pair of runs after the first five men reached base … Houck settled in after the first inning and allowed just two hits and one unearned run over his final five innings pitched, but Mizzou stranded 10 runners as they couldn't come up with a timely hit to get back into the game before falling 5-1 … With the score 3-1 in the seventh inning, sophomore OF Trey Harris nearly came through with a double in the gap, but it was run down for out No. 3 to strand a the game-tying runs … On Sunday, Mizzou lost 9-2 despite Zach Lavy tallying his SEC-leading 16th double and SEC-leading 27th extra-base hit on an RBI double in the eighth … Senior 1BZach Lavy continues to put together an All-SEC type year for Mizzou as he is hitting .340 with an SEC-leading 16 doubles, SEC-leading 27 extra-base hits, SEC-leading seven triples and a team-high 36 RBI … He is slugging .609 as well … Mizzou will be back in action this week, hosting Missouri State Tuesday (April 26) at 6 p.m. before hosting Tennessee in a three-game weekend series at Taylor Stadium … The Tennessee series begins Friday at 6 p.m. on SEC Network+ … Saturday's game will be on ESPNU and Sunday's game will air on SEC Network.