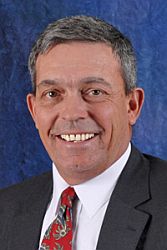 President of the Missouri Farm Bureau Blake Hurst along with 79 Missouri Farm Bureau members recently returned from Washington DC where he says discussion was pretty focused on budget
According to Hurst the meetings with legislators also touched on EPA over reach and how the agency could impact the farm sector.
The group also visited the New Zealand Embassy where trade was the main topic.  According to Hurst there is currently a New Zealand trade deal under negotiation that would benefit the Missouri agriculture industry but he says market share will continue to be lost until the deal is finalized.