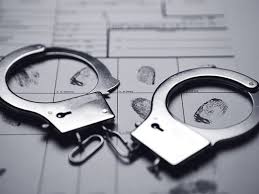 MOBERLY, Mo.– Formal charges have been filed after a man was found dead in a home in Moberly Thursday morning.
The suspect, Joseph L. Kertz, 28, of Moberly has been charged with first degree homicide, accessory to a robbery in the first degree, armed criminal action, accessory to arson in the second degree, unlawful possession of a firearm, accessory to tampering with physical evidence, and promoting prostitution.
A probable cause statement indicates Moberly Police responded to a shots fired call Thursday, October 6, 2016,  at 7:02 a.m.  at 1505 Calhoun Street and found smoke coming from the residence.
After extinguishing a small fire, police found Kevin Glenn McCuiston, 39, of Boonville, dead at the scene from an apparent gunshot wound possibly to the head.
Officers made contact with a witness who told Officers she was driving by the residence and saw an unknown vehicle parked at the residence that she is in the process of trying to rent. The witness approached the residence and saw Joseph Kertz walking out the front door. The witness also saw a female, B.B. outside the residence crying. The witness asked Kertz what happened and he stated "the guy tried to rape my girlfriend so I shot him in the head," and that he was going to burn the house down.
The witness stated Kertz showed her the body in the living room and she called police to report the incident.
Officers made contact with Kertz and B.B. at 1412 Wright Street, where they were arrested.
In a post-Miranda interview with Kertz, he admitted B.B. and McCuiston were in contact with each other to have a sexual encounter at 1515 Calhoun Street for $1,000. Kertz stated he was going to be security for B.B., but he passed out while B.B. was getting ready.
Kertz advised B.B. woke him up and told him McCuiston locked her in the bathroom of the residence for over an hour. Kertz admitted he was enraged and went over to the residence on Calhoun Street to assault McCuiston, but he was not at the residence when he and B.B. arrived.
Kertz stated he and B.B. went back to his house on Wright Street and were there approximately 30 minutes when M.G. showed up. Kertz stated M.G. asked him to hold a gun for him for $20. Kertz said he thought the gun was involved in criminal activity so he wiped the gun and gave it back to M.G. Kertz stated M.G. left his house and then saw M.G. getting pulled over by police.
In a post-Miranda interview with M.G., he stated in the early morning hours of October 6. 2016, he received a text-message from Kertz which stated, "I need help."
M.G. stated he initially believed Kertz was referring to having problems with B.B.
M.G. stated when he went to Kertz's residence, he overheard Kertz and B.B. talking about B.B. and Kertz planning on having sex with a guy for money. M.G. stated he heard Kertz say his plan was to rob the guy, but Kertz ended up shooting at McCuiston twice. M.G. stated he also heard Kertz tell B.B., "I told you to be ready for this s***."
M.G stated as he was leaving the residence, Kertz tossed him a cooler. M.G. stated he did not know what was in the cooler and did not ask. As M.G. left the house, he was taken into custody.
A cash-only bond has been set for Kertz at $500,000. Court dates are pending.