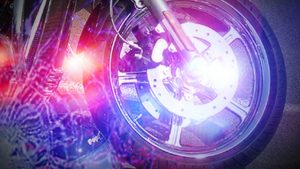 RANDOLPH COUNTY, Mo.- A Moberly, Mo., man was involved in a motorcycle accident last night in a rural part of Randolph County.
The Missouri State Highway Patrol and the Randolph County Sheriff's Department responded to County Road 2715, a mile and a half southeast of Moberly, at approximately 8:40 p.m. Upon further investigation it was determined that Jonathan Tindle, 43, was traveling southbound when his motorcycle ran off the right side of the roadway and struck a fence.
Tindle was ultimately ejected from the bike and suffered minor injuries as a result. He was taken to Moberly Regional Medical Center by Randolph County Ambulance for treatment.