RANDOLPH COUNTY, Mo. – A felony drug charge has been filed against a Moberly resident after he lead police on a chase Monday, October 5, 2015.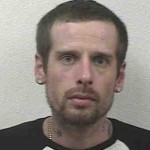 The Moberly Police Department released a statement Tuesday evening announcing that Jordan W. Taylor, 26, sped away when officers attempted to conduct a traffic stop at Hagood and W. Rollins Streets. Taylor was located in the 800 block of Myra Street and during a search of his vehicle, officers seized methamphetamine, marijuana, packaging materials, currency and digital scales.
Taylor is being held on a $100,00 cash or surety bond for distribution of a controlled substance.