UPDATE: 12:50 p.m. Thursday, Aug. 6, 2020
The signed detour route for the upcoming closure of the Grand River Bridge on Highway 65 in Livingston County has been changed. The new signed detour will be over Routes Z, C, DD, D and U.S. Route 36.
CHILLICOTHE, Mo. — A closure of Highway 65 south of Chillicothe is scheduled next week.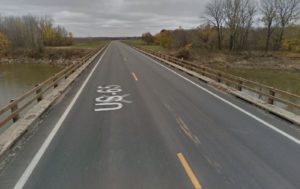 A bridge deck replacement project has been active since early March and has been staged to allow one lane of traffic over the bridge. MoDOT states a full closure is needed for the casting of the bridge deck.
Crews will close Highway 65 at the Grand River Bridge on Wednesday, Aug. 12 at 1 a.m. until the afternoon of Aug. 15.
A signed detour will be in place from Aug. 12-15 and will direct drivers over U.S. Route 36, Route C, and Route Z. The bridge is scheduled to open for two-way traffic in early December.
The construction is included in Gov. Mike Parson's $351 million Focus on Bridges program, which will repair or replace 250 bridges across the state.