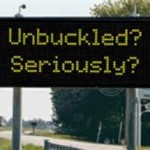 Road crews in Chariton County will be doing drainage work all week along 139, while crews throughout the state continue to mow and spray various roadsides.
Area Engineer Mike McGrath lists a few projects in his area, starting in Saline County.
Kansas City District's Schedule
Caldwell County crews will perform shoulder work and driveway repair on various routes this week. Area Engineer Tonya Lohman fills in a few more Caldwell projects and gives us a rundown of work in other counties.
In all counties be ready to slow or stop for crews conducting spraying, mowing, brush cutting and other maintenance along various roadways. Be sure to plan ahead with the Traveler Information Map and a full roadwork schedule at the MoDOT Website.