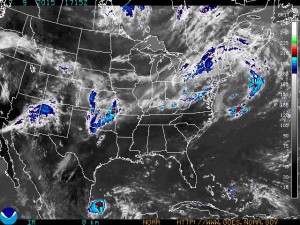 MISSOURI — More rain is expected to impact the state overnight. While severe weather is not a threat, flooding continues to be a concern for the National Weather Service.
KMZU's Andy Campbell spoke with Meteorologist Pamela Murry about Thursday's expected rain, warmer weather ahead and tips to protect your home from flooding:

Sunshine and clear skies are a rare sight for Missourians this summer, as relentless rain and severe thunderstorms continue to impact the state.
Dryer weather is in the forecast, but not before another round of rainfall will hit the state Thursday evening. Meterologist with the National Weather Service in Pleasant Hill Pamela Murry, said Thursday's system developed over Texas early on July 8, and is expected to move through Missouri.
"We do have a system that is currently across the Texas-Oklahoma pan handles," Murry said. "That will be moving up into our region (Thursday) and (Thursday night), and that will bring another chance for some showers and thunderstorms across portions of the area."
While rain is expected for parts of the KMZU listening area, no severe weather is expected. Murry said people should still take caution, as large portions of the state are already experiencing moderate flooding.
"If you've had significant rain in the last … few days, just make sure that things like your sump pump are working properly to help get that water out," Murry explained. "If you're in a flood-prone zone, maybe you wanna have some sandbags on hand."
Murry said Thursday's system is expected to be minor, but residents should still prepare properly.