UNDATED (AP) — The rain isn't showing any sign of letting up along much of the East Coast, where it's been coming down for days.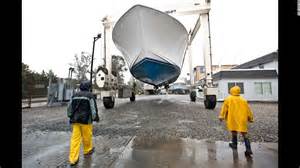 Authorities in South Carolina have shut down the Charleston peninsula to motorists, after several feet of water caused vehicles to stall in downtown Charleston and inundated some homes and buildings in the area.
The National Weather Service says flooding remains a concern through Monday morning, especially in parts of the Carolinas that already have received up to 11 inches of rain this week. Meteorologists say once the rain ends, the threat of flooding persists because the ground is too saturated to absorb water. And high winds could bring down trees like the one that hit a vehicle near Fayetteville, North Carolina, killing a passenger.
The storm also has been linked to a drowning in Spartanburg, South Carolina.
Forecasters say coastal flooding remains a threat, particularly in the Virginia Beach area and the Outer Banks of North Carolina.